HOW TO MAKE THE PERFECT BED
There's nothing like a freshly made bed, and there's more to it than just changing the sheets and pulling up the blanket. A well-made bed makes a personal style statement, and whether you're into a luxury hotel look or something more casual, we've got everything you need to pull it all together.
Foundation: Mattress Pad & Toppers, Pillows & Protectors
Start with the basics! Choose a mattress pad for an additional layer of comfort or a mattress topper for added support and comfort. Then, pile on a pillow (or two) in standard or king sizes, with the fill, features and comfort level you're looking for. For additional protection from everyday wear and tear, add a mattress protector and pillow protector to prolong the life of your basics.
Mattress Pads & Toppers
Pillows
Mattress & Pillow Protectors
LAYER 1: SHEETS
Pick out the perfect sheets! Stretch a fitted sheet across the mattress and pull the elastic hems under the edges. Be sure to choose the right size sheet for your mattress to ensure a non-slip fit. And what about the flat sheet? The top edge of the sheet should meet the end of the mattress and easily tuck in at the sides and bottom.
Sheets
LAYER 2: BLANKETS
Make a blanket statement! Usually used in between sheets and the comforter or duvet, a blanket not only adds an extra layer of warmth, it can also add a much-needed pop of contrasting color or pattern. Again, make sure it fits the size of your mattress, leaving the sides untucked so you can slip into bed easily.
Blankets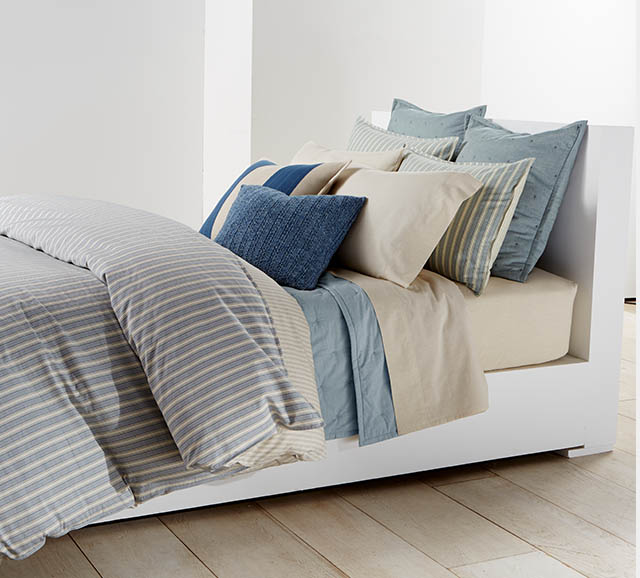 LAYER 3: DUVET, COMFORTER or BEDDING COLLECTION
The comforter, duvet or quilt is a great way to show off your style. This cozy layer adds warmth in an instant, and you can simply switch it out for a different look in minutes with a duvet cover. Looking for a quick fix and an easy update for the whole look of your bed? A bed in a bag set includes everything you need all in one convenient package.
Comforters
Duvet Covers
Bedding Collections
LAYER 4: QUILTS & BEDSPREADS
Whether it's for extra coziness or just for decor, a quilt or bedspread is the final layer. Place it over the comforter and fold down the top quarter of the quilt for added flair. And don't forget, you can always switch up your quilt or bedspread seasonally for a fresh new look.
Quilts & Bedspreads
LAYER 5: THROWS
& DECORATIVE PILLOWS
Time for some bedding pizzazz! Add coordinating shams, decorative pillows and throws to complete the look. It's your chance to try bright accents and bold textures.
Decorative Pillows & Throw Pillows