HOW TO CLEAN, STORE & ORGANIZE YOUR HANDBAGS
Amazing handbags deserve amazing care. It's important to read any included care information, especially for bags made with unique materials. We're here to help with some additional tips on proper maintenance and storage of your favorite accessories. Be sure to keep your handbag clean and clutter-free, too, so it retains its original shape!
CARE TIPS
Keep different handbags in rotation so one bag doesn't get constant wear.
To avoid unnecessary strain on straps, don't hang your bag on hooks or doorknobs.
Make sure to use leather cleaners to polish and care for your leather handbags and accessories only. For COACH or MICHAEL Michael Kors pieces, you'll find leather cleaners made exclusively for use on their products.
Spot clean stains on your leather, suede and canvas handbags as needed, but always take them to a professional to remove tough stains and repair damage.
STORAGE TIPS
Store your purse inside a dust bag.
Keep bags in a cool and dry place to help prevent damage and hardware tarnishing.
Stuff your bag with packing material to keep its shape (avoid newspaper as it tends to bleed and can attract unwanted insects).
WHAT CAN FIT IN YOUR HANDBAG
THE ALL-IMPORTANT WALLET
Store your license, cards, cash and even your phone in a wallet with multiple compartments. Keep spare change in a coin purse and toss in a few of your business cards for good measure.
COSMETICS ARE IN THE BAG
Broken powder? Spilled contact solution? Not here! Lessen the blow by storing makeup and travel-size perfumes inside an easy-to-clean, lined makeup bag or cosmetics bag. Go for cheeky prints or playful patterns that are easy to spot, especially in a large carryall or suitcase.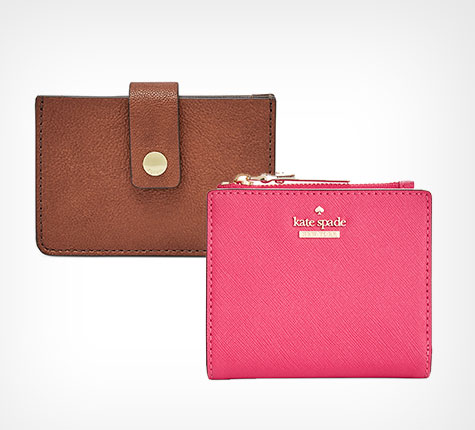 JUST IN CASE
Running out to grab lunch? Leave your bag tucked away at your desk and just take a card case or coin purse with you. It's super handy for making a quick trip in and out. You'll also find handy phone cases with built-in slots in the back for holding cards and travel passes.
PASSPORT CASES & LUGGAGE TAGS
Hit the road…with convenient travel accessories to help make your trip as seamless as possible! Passport cases add a personal touch to your travel docs, and luggage tags make it easy to spot your suitcases as they come down the carousel.
You Might Also Like