We've got a knack for necklaces! From dainty details to statement stunners, learn about all the different types of necklace chains, clasps and styles you need and want in your jewelry collection!
A

link chain

is very versatile and available in many patterns. Figaro is the most popular pattern.
A

box chain

is made of a series of wide, square-shaped links that interconnect with the next one. It's very strong and great for hanging pendants or charms.

Herringbone chains

are a series of short, flat links in two or more rows that create a diagonal pattern. It's usually worn alone and should not be worn to sleep in order to prevent kinks.

Rope chains

are comprised of two thick strands woven together, giving the appearance of a spiral. It's very versatile and the diamond-cut rope is a very popular style.

Snake chains

are a series of round metal rings joined to form a smooth flexible tube. It resembles the pattern and shape of a snake.
An

omega chain

is a flat chain made up of rectangular smooth rounded metal plates laid side by side and crimpled along the ends into a stripe of metal mesh.
Chains come with a variety of different clasp styles. The clasp needs to be strong enough to support the weight of longer chains, while shorter chains need a clasp that is easy to fasten, especially if you don't have an extra pair of hands that can help.
Barrel

: A square wire fits into a barrel-shaped tube and locks into place. Some barrel clasps have an added safety closure on the side. Some screw together for safety.

Lobster Claw

: The most popular clasp, it resembles its name.

Spring Ring

: A round clasp that opens with a coil spring. On better chains, the spring ring is heavier for increased durability.
chain necklace
Chain necklaces are delicate pieces that are usually made of gold or silver. Also check out our selection of men's chain necklaces.
choker necklace
A choker is a close-fitting necklace worn around the neck. Chokers are typically 13-15 inches in length. Chokers can be made of a variety of materials, including velvet, plastic, beads, leather and metal.
collar necklace
A collar is a necklace that lies flat to the body rather than hanging freely. Collar necklaces are 14 inches in chain length.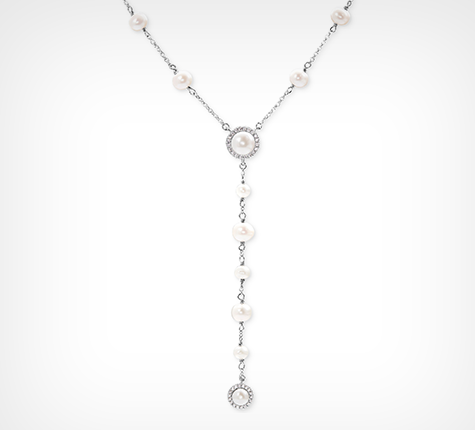 lariat necklace
A lariat is a very, very long variation on the rope, without a clasp, often worn draped multiple times around the neck; the ends can be crossed over, looped, or knotted in various ways. This type of necklace sometimes incorporates a loop at one or both ends to allow it to be worn in the style of a lasso, or it may be worn doubled over with the ends passed through the loop formed in the middle..
long necklace
Long necklaces are typically 22-42 inches in length. Be sure to shop long necklaces for men, too!
long pendant necklace
Long pendant necklaces have pendants attached by a small loop to a necklace that is typically 22-24 inches in length. Also look for long pendant necklaces for men.
locket necklace
A locket is a pendant that opens to reveal a space used for storing a photo. They come in many shapes such as ovals, hearts and circles and are usually made of precious metals such as gold or silver.
religious necklace
Religious necklaces feature a pendant or charm with a religious symbol like a cross, rosary, Star of David, crucifix and more. Discover our selection of cross necklaces for women and religious necklaces for men, too.
statement necklace
Statement necklaces are bold, intentionally large pieces with bulky pendants and ornate details.
short pendant necklace
Short pendant necklaces have pendants attached by a small loop to a necklace that is typically 16-18 inches in length. Check out short pendant necklaces for men, too.