Jean Outfit Ideas for Men
What to wear with jeans? This versatile closet staple can be worn with almost anything. Keep reading to find inspiration on how to create an entire outfit around a great pair of jeans.
Create an Outfit Based on Your Favorite Denim Style
We've rounded up the jean styles that are having a major moment. Check out Macy's video for even more outfit ideas:
Distressed or Ripped Jeans
This style includes any pair of jeans that's been ripped, marked or treated to give the appearance of a well-worn look.
Outfit Idea: A pair of distressed jeans evokes such an effortless feel, but still makes a statement. You can rock a pair of distressed jeans with simple pieces to play up teh understated, vintage vibes. Pair this style with a plain T-shirt or sweatshirt. Give it a city-cool vibe with work boots or slip-on sneakers. For the evening or on colder days, layer on a camo jacket to finish the look.
Colored Jeans
Spice things up with a little color! Colored jeans go beyond blue and are a surefire way to make a statment.
Outfit Idea: Dress for your mood with colored jeans. They're an easy way to make your outfit stand out. Make colored denim the focal point and keep the rest of the outfit relaxed with a muted or neutral shirt. Feeling particularly bold? Go with monochromeatic separates—you can never go wrong with an all-white look. Finish with a pair of sneakers and a varsity jacket for a night out.
Biker or Moto Jeans
Find a pair of moto jeans that are right for you. Light wash, black, gray, distressed, camo—the list goes on! Also known as biker jeans, this pair features texture along the knee to give off a rugged feel. The panels can be subtle or bold depending on the design.
Outfit Idea: Give your look some edge with a pair of moto jeans—they instantly make any outfit more interesting. Biker jeans work well with slip-on sneakers or boots. Keep it streamlined by rolling or cuffing the jeans. Polish the rugged look for evening by pairing it with a blazer and T-shirt.
Style an Outfit By Denim Wash
Consider stocking up on these washes when you hit refresh on your wardrobe this season—we recommend grabbing at least one of each!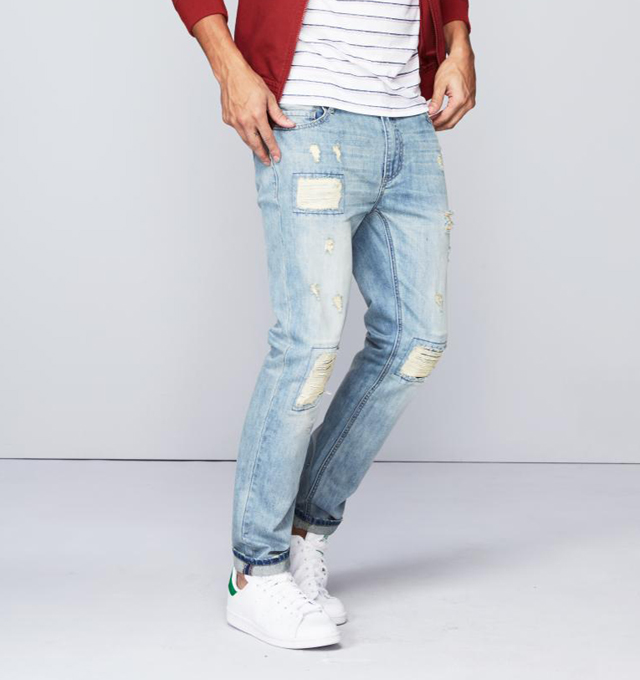 Light Wash Blue Jeans
Create endless outfits in your closet with light washed jeans.
Outfit Idea: the light color is a solid wash makes it a great option for a denim-on-denim moment. Switch up your T-shirt or jacket for a new combination. Pair the jeans with a white tee and open denim shirt in the summer, a denim jacket during the fall and a denim shearling coat in the winter.
Medium Wash Jeans
Medium wash jeans are a classic! From preppy to city sleek, these jeans work well with many outfits.
Outfit Idea: A crew-neck T-shirt or button-down shirt feels right for an off-duty look. Keep the look light by pairing it with sneakers. Add a denim jacket for fall and a navy coat for the winter.
Dark Wash or Black Jeans
The most versatile pants in your closet, dark blue jeans or black jeans can be dressed up or down.
Outfit Idea: Work them into your office attire by pairing them with a modern turtleneck and trench, finished off with sleek Chelsea boots or chukka boots. Don't be afraid to mix black and brown! Black jeans worn with brown Chelsea boots is a must-have outfit for the modern man's wardrobe. For a casual look, rock them with simple white sneakers and a graphic tee.