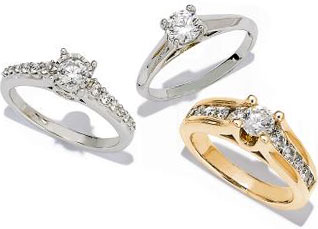 Your guide to the ins
& outs of engagement rings & wedding bands.
THE FOUR C'S
What to know when selecting
the perfect engagement ring.
CARAT
A diamond's size is referred to by its carat weight. A carat
is a unit of measurement equal to 200 milligrams.
One carat is divided into 100 points, so that a diamond
of 50 points weighs 0.50 carats. All diamond ct. t.w.
may vary by .05 carats.
CUT
A Master Cutter will cut a diamond in such a way that will
maximize the amount of light reflected, increasing the
brilliance. Thus, the better the cut, or "make," the better
the sparkle.
COLOR
Diamonds found in nature range from colorless to slightly
yellow to brown. The best color that you can choose for
a diamond is colorless.
The color grading system uses letters in the alphabet
ranging from 'D,' for the most colorless diamonds all the way
to 'Z,' for diamonds with the most color.
CLARITY
A diamond's clarity refers to the quantity, size & position
of natural inclusions that occur inside a diamond.
The Macy's Star Signature Diamond is available in round and fancy shapes, and is guaranteed
to be natural and untreated. Each is cut with 73 facets for magnificent sparkle. With strictly
defined proportions, polish and symmetry, the round Macy's Star Signature Diamond is the first
73-facet round diamond in the USA ever to receive a Very Good cut grade from IIDGR.
BRILLIANT DESIGNERS
Choosing a trusted name is the
first step toward happily ever after.