WINDOWS OF OPPORTUNITY
Here's the 4-1-1 on everything from curtains & fabrics to accessories & hardware.
WINDOWS OF OPPORTUNITY
Here's the 4-1-1 on everything from curtains & fabrics to accessories & hardware.
TELL US WHAT YOU WANT
(WHAT YOU REALLY, REALLY WANT)
IF YOU WANT

To soften views & have moderate privacy
To block light & enjoy additional privacy
To block 99% of sunlight & reduce noise, heat & cold
A kitchen window upgrade
HANG TIME
What's your window hanging style?
THE ROD POCKET
A sleeve (in the case that there are two pockets) runs across the top of the panel for the rod to slide through. Feed the rod through the lower pocket to create a ruffled style or the top one for a clean, long look.
THE GROMMET
Metal rings are stamped along the top of the curtain for the rod to feed through. Pro tip: match the grommet with the finish of your drapery rod.
THE BACK TAB
Hidden tabs on the back of the curtain allow you to slightly bunch curtains for a pleated look.
THE TAB TOP
If you want a more minimal look, go this route. These are drapes with individual tabs of fabric that the rod is fed through, exposing more of it.
CHOOSE YOUR HARDWARE
Because it's all in the details...
THE DRAPERY ROD
You can opt for a single or double rod. For a layered look, use a double rod to hang sheers on the inner rod & drapery panels on the outer rod.
THE BRACKETS

If you're looking for more support for wider windows or heavier drapes, brackets attach to a wall or window frame to support the drapery rod.
THE CLIP RINGS
To add length, or for an alternative hanging style, try clip rings. They're just that: small metal, wood or plastic rings with a clip. Simply put, the rings slide onto the drapery rod & the clips attach to the fabric.
THE HOLDBACKS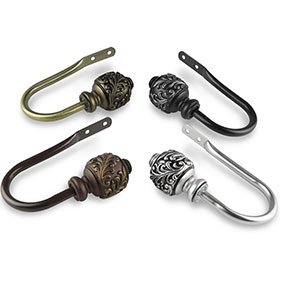 Feeling formal? Holdbacks allow panels to be pulled to the sides of the window & held there. There are tons of shapes, designs & materials (think metal, wood, resin & plastic).
WINDOW TREATMENT SIZE
You'll need to decide if you want your treatment to hang on the inside or outside of the window.
Size things up before you start shopping. Here's how:
INSIDE WIDTH
Measure from the inside of the window to the opposite side.
OUTSIDE WIDTH
Measure from the outside edges of the window molding.
HEIGHT
Measure from the top outside edge to the bottom outside edge.