WHAT TO WEAR TO A WEDDING CEREMONY
The scenario: You RSVP'd "yes" to a wedding months ago, but now the big day is right around the corner and you still have no idea what you're going to wear, or what's even appropriate. You check the invitation for the dress code, and between "black tie optional" and "dress casual," sometimes the language can be a little tricky to decode.
We've all been there. That's why we've broken down common wedding guest dress codes, plus provided outfit ideas to consider for each type for the ladies and men. Who's ready to make the best-dressed guest list?
IF THE INVITE SAYS...
"WHITE TIE"
It's the most formal of the wedding dress codes. Go for traditional and conservative styles.
FOR HER
Consider long gowns and ball gowns worthy of the room. Elegant accessories including fine jewelry complete the look.
FOR HIM
This is the time to break out the tuxedo and bow tie. Bonus points for a cummerbund and vest.
"BLACK TIE"
The second most formal dress code. Typically, it means the wedding will take place in the evening—elegance prevails.
FOR HER
Look for sophisticated dresses or gowns as well as refined accessories to match. Pearls are always a safe bet.
FOR HIM
Guys can show off smart style in dark suits or tuxes, and complete the look with a tie and polished dress shoes.
"FORMAL" OR "BLACK TIE OPTIONAL"
Something a little less formal than black tie is ideal.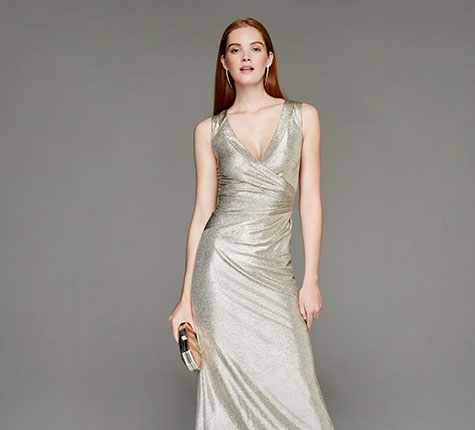 FOR HER
Get your glam on in red-carpet-ready formal dresses with standout details like a high slit, illusion mesh panels or a low back. Add on luxe accessories and a statement lip for the ultimate city-chic look. Adrianna Papell has great styles!
FOR HIM
A tuxedo isn't required, but will still be appropriate to wear. A dark suit is a safe bet. Make a statement with your tie choice.
"SEMIFORMAL" OR "DRESSY CASUAL"
This dress code depends on the time of the event. If it's during the day, then wear light colors and fabrics. During the evening? Darker colors are more formal.
FOR HER
This is the perfect opportunity for playful dresses in shorter lengths. Cocktail dresses are a great option. Have fun with accessories—a statement necklace or bangles are good place to start.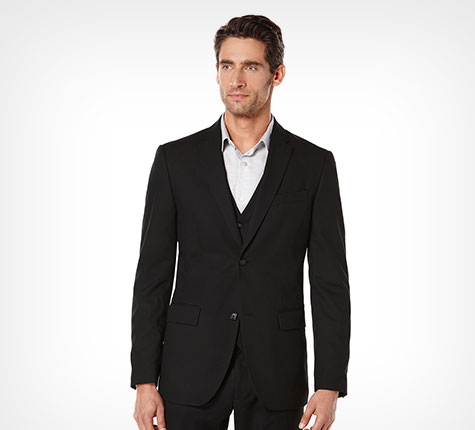 FOR HIM
Stick to a sleek, streamlined suit. Jackets are a must, but ties can be optional.
"BEACH FORMAL"
A tropical paradise calls for light fabrics, bright colors and bold patterns.
FOR HER
Romantic, flowing silhouettes make for an effortless, beachy look. Skip the pumps and opt for sand-friendly shoes.
"CASUAL" OR "DAYTIME"
Laid-back is the name of the game. This is a common dress code when the wedding will take place outdoors.