Ghostbed
9" All-in-One Mattress Box Spring Foundation- California King
Web ID: 12441062
Get more information
For questions or financing options, talk to a Macy's Furniture and Mattress Expert.
Call 1800-BUY-MACY (289-6229)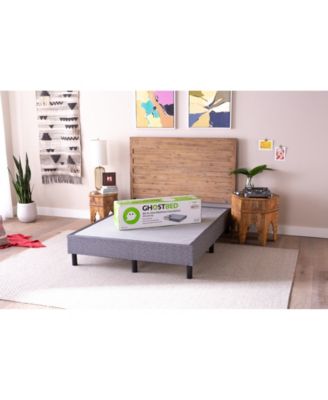 Part of a Collection
This item is part of the Ghostbed 9" All-in-One Mattress Box Spring Foundation Collection
product details
Engineered with expert craftsmanship and the highest quality materials,100% metal frame, with durable adjustable legs and a contemporary grey fabric cover for an upholstered look.Simply unfold, connect the corners, and snap the slats in place. No tools required, other than the included Allen Wrench.
All-metal construction holds up to 2,000 lbs., ensuring long term durability
Height: 9" Foundation 12" or 15" options with included legs
Works with any headboard/footboard/bed combination
Easy to assemble with only 5 pieces plus slats
Replace the need for a metal frame!
Slip-on contemporary cover Included
6" height 2-piece legs & Headboard Brackets (Optional)
20-year warranty - Industry leading
This box spring arrives in two pieces. Split box springs make it easier to maneuver through narrow stairwells, elevators and door frames.