Sand-blasting skin with coarse, chemical crystals? How painfully passé. Here's age-smoothing exfoliation without irritation. Skin-refining Rice Starch, cushioned in cream, shows real affinity for rapidly removing sluggish cells, uneven patches and signs of skin damage and discolorations. Lemon Oil kick starts the process of illumination. Another age-sweeping action: skin-menacing molecules are mopped up. All while Aloe keeps skin calm and comfy. There's no ouch, extra steps or other complications. No redness or flaking follows. The before-and-afters are amazing. Signs of fine lines and size of pores appear to shrink in size. Skin looks perfectly polished, smooth and luminous. And the perk-me-up aromas of Bergamot and Peppermint help you look on the bright side.
main image of Modern Friction Nature's Gentle Dermabrasion 4.2 oz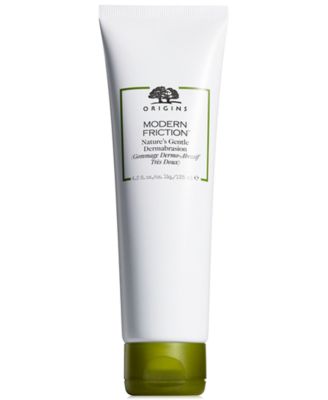 Customer Reviews
Oil-absorbing
Moisturizing
Best for Day
Best for Night
The bottle leaks and most of the product has leaked out. Please replace with a bottle that doesn't leak.

This is the best, natural, gentle exfoliant you can buy. It's worth every penny.

Good for my sensitive skin...

Aug 10, 2021

This is gentle on my sensitive skin. You don't need to use very much so this should last awhile.

It makes your skin so soft! I use it a few times a week. Makeup glides on after use!! It actually makes your skin glow!!!

My favorite cleansing Oil

Jan 05, 2021

Really love this cleansing oil. Doesnt make my skin greasy, Takes off all makeup very easily. Makes my skin feel clean and smooth. I alternate this with the modern friction scrub

When I need to exfoliate this is my go to scrub. So gentile and makes my skin feel so smooth.

One of the times that I went shooting the case from a bullet I'd fired hit my forehead and burned my skin. The mark starting turning brown and it was so embarrassing! I so happened to stop by an Origins store at The Falls in Miami and the sales rep there recommended this product. I tried it the same night and VOILÀ! The Mark disappeared completely! That's was back in 2008. I've been a fan since. I've used it mostly for the reason to remove any marks from my body. I will say that I feel it's not as potent as it was back them but it's still good stuff!

Best exfoliating product!

Nov 10, 2020

I worked in a makeup store and have tried dozens of products to exfoliate the skin, but this is my favorite. It is gentle enough for sensitive skin, but effective enough to slough off any rough patches. It has a slightly sweet fragrance, so if you're not a fan of fragrance in your skincare you may want to pass.
These items qualify for Free Shipping with minimum purchase! exclusions & details
Our Normal Gift Boxing is not available for these items.
Enjoy a longer window to return most of your holiday purchases. See our Extended Holiday Return Policy to see if this item qualifies.