Pet Life
Luxe 'Lab-Pard' Dazzling Leopard Patterned Faux Fur Dog Coat Jacket
Web ID: 7994024
Select a size above in order to view availability.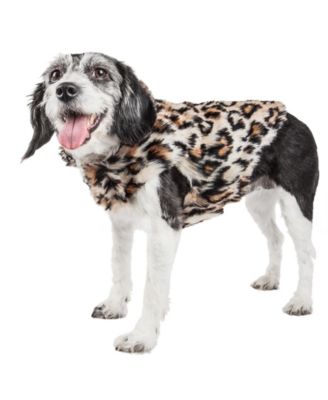 Part of a Collection
This item is part of the Pet Life Luxe 'Lab-Pard' Dazzling Leopard Patterned Faux Fur Dog Coat Jacket
product details
Dog coat jacket features a striking caramel and light brown leopard pattern that stretches throughout the body with a beautifully accented faux fur collar that is smooth and soft to the touch. Features tough grade across the body velcro belly enclosures for convenient on and off access and a leash slit below the neck line.
Dazzling marble designer multi colored faux fur mink coat, looks super trendy
Features ultra strong belly velcro for convenient on and off access
Features a leash slit below the neck line
Features a nice luxury print, meant to keep the body nice and warm during the frigid cold temperatures
Available in multiple sizes
Shell - Polyester, Lining - Polyester, Binding - Polyester, Collar-Acrylic
Hand Wash
Imported