Radley Fabric 4-Piece Sectional Sofa, Created for Macy's
Web ID: 2279359
LOWEST PRICE OF THE SUMMER SEASON!
$3,226.00
Current selected color: Heavenly Mocha Grey
View Dimensions
Get more information
For questions or financing options, talk to a Macy's Furniture and Mattress Expert.
Call 1800-BUY-MACY (289-6229)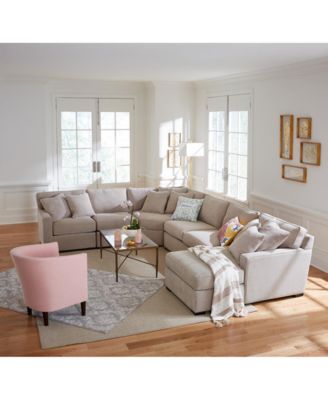 Part of a Collection
This item is part of the Radley Fabric Sectional Sofa Collection, Created for Macy's
product details
Styled to perfection. This minimalistic sectional sofa showcases impeccable tailoring, track-style arms and richly textured upholstery, all set on mocha-finished legs. Sharp angles & clean lines give this Macy's exclusive a signature look.
High-resiliency foam cushions
Seat and back cushions are removable and reversible; removable legs
This sofa's sections can be combined in multiple ways to make a shape that fits your space.
The configuration of your choosing can be decided upon arrival of the furniture.
The current images may not reflect all possible combinations.
Created for Macy's
Product comes fully assembled via White Glove Delivery