SensorGel
8" Firm Cool Gel Memory Foam Mattress in a Box Collection
Lie down, relax and fall asleep in total cooling comfort on the SensorGel® 8" firm memory foam mattress. This mattress features proprietary SensorGel® ventilated gel-infused memory foam on top of a high density supportive foam core blending a cooling sleep experience with the pressure relieving support of memory foam.
Select specific item for details
Created for Macy's
Please allow your body to adjust to your new sleep set. If you are not satisfied, please contact Macy's Customer Service (1-888-822-6229) within 120 days to schedule a one-time reselection or return. The reselection must be scheduled within 14 days.
Web ID: 4648044
main image of 1Base All-in-One Box Spring & Frame, Quick Ship- Queen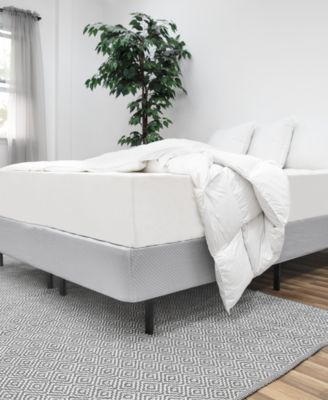 Rather disappointed in this mattress. The listing says "firm," but it's more like a medium, at best. Followed unpacking directions to the tee but the mattress never expanded beyond six inches. What we find most bothersome is that it's just not a particularly comfortable mattress and we toss and turn all night trying to get comfortable. It's always tricky buying a mattress online without "experiencing" it in a store, sit on it and the like, but this one was a dud. That being said, seems many people liked it which is why we bought it, but it wasn't to our liking at all.

Delivered to my house , ease to use and so comfortable!

I wasn't sure to purchase this product, after adding it and removing it from cart. I ended up buying it for sale and I don't regret. My son loves it, and I do too.

l loved the look, the price; it says you get a box spring and frame! you don't you get a frame with cover no box Spring. the frame is great love the frame COVER, no box Spring. so I paid my bill I'm waiting for a mattress for almost a month. extraordinary circumstances, in a very tuff time for all. I just want to give everyone a heads up no box Spring. but good looking sturdy frame.

Comfortable and easy to set up. I did wait for the 48 hours for it to decompress, and it was ready to use immediately. Slept on it like a baby, and I'm a side sleeper. I am using it with a basic platform bed frame and without a box spring. Glad I made the purchase it was well worth it.

After sleeping on one side for about a week, "dents" are formed and then you if you move the "dents" prevent you from getting comfortable. So what I have to do is sleep on the left side for a week and then sleep on the right side. That gives time for the dents to come back to the correct shape. I'm disappointed in this mattress.

Pleasant Surprise. Holds Our Weight Well!

Oct 16, 2019

What a surprise! When I first unrolled this mattress-in-a-box, I thought, surely this will not be firm enough! I weigh 200 pounds and my boyfriend 230-I thought there's no way, we are going to sink right down to the base layer of this thing! Nope. After allowing it to breath for 48 hours, it sprung up completely and has been an absolute pleasure to sleep on ever since. Add a 25 pound weighted blanket, silk pillow cases and a giant soft white comforter...sleeping on cloud nine! It's been about a month and our mattress is still nice and squishy yet firm-not sure how that oxymoron works out but it does! I also like that we can't feel each other rolling over because the memory foam sort of absorbs our movement. Buy this thing!

Honestly the best! I've had back problems for a while and every once in a while, my pain returns and I love the way the mattress contours to my back. Feels like sleeping on a cloud. It will take some time to adjust to it, but that's normal with any new mattress.