Dive into skin hydration and ditch your beauty hangover! "I've been passionate about skincare all my life. I created my Hangover Skincare Collection because I insist on truly innovative skincare products that really work powered by natural actives supercharged by science to nourish, protect and resurrect my skin, and these little wonders work harder than anything I've tried! I use them every day and I'm loving the best skin I've ever had." Xoxo, Jerrod
main image of Hangover Pillow Cream Ultra-Nourishing Night Cream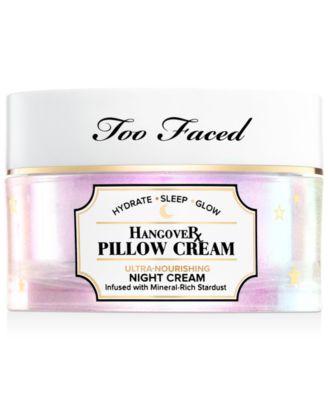 main image of Hangover Pillow Balm Ultra-Hydrating Lip Treatment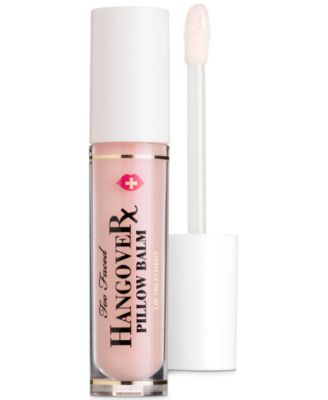 ---
Current selected color: Original
main image of Hangover Good To Go Skin Protecting SPF 25 Moisturizer
main image of Hangover Good In Bed Ultra-Replenishing Hydrating Serum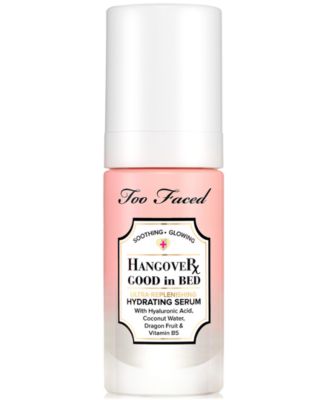 main image of Hangover 3-In-1 Replenishing Primer & Setting Spray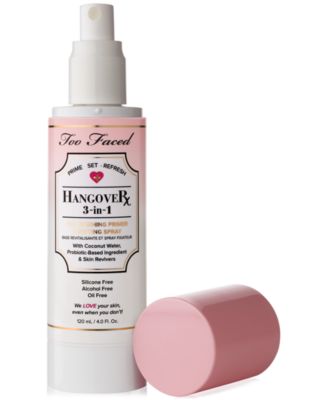 main image of Travel-Size Hangover Replenishing Face Primer, 0.68 oz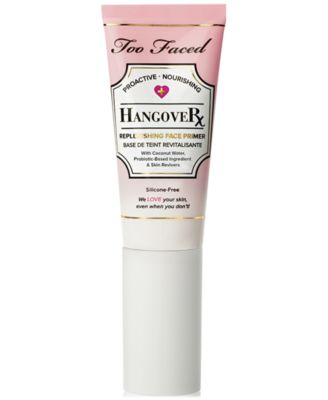 ---
Current selected color: Too Faced Hangover Primer Travel Size
main image of Travel-Size Hangover 3-In-1 Replenishing Primer & Setting Spray, 1.0 fl. oz.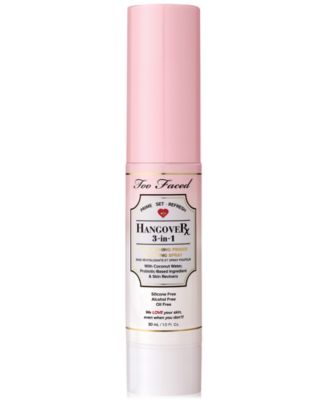 Customer Reviews
Oil-absorbing
Moisturizing
Natural Wear
Long Lasting
I honestly wish I could bathe in this stuff. My lips and skin are extremely dry due to my medication. This is the only thing that gives my lips long relief. Love love love this product.

Great product. I have used this for years and it's a very good primer.

Got in my fff box and loved it

Nov 18, 2020

Very lightweight and smells great. I am very active outdoors and love this products spf bonus and ingredients. Its lightweight but not too watery at all.

This is my must have make up product. I always have one opened one as a back up and a travel size for vacay. My skin stays so hydrated because of it. I have combination skin. I use to wake up very flaky in the mornings. I believe this has helped save my skin.

Perfect for dry skin! Hydrating and not sticky!

Sep 12, 2020

I am in love with this primer! I've never used one before but gosh my skin feels and looks so much softer and my foundation goes on so evenly! What a game changer! I bought this with my birthday gift card but if I had the money I'd keep buying forever!

Love the light feeling on my face. Very refreshing,nice scent.

Very light nighttime serum. And I can tell my face is still moisturized in the morning!

I was super skeptical at first, I tried it on the back of my hand and it was super thick and left an iridescence, however, after purchasing it to give it a go, I later found that even though my skin is oily/combo, a night cream is usually supposed to be thick and my skin still managed to absorb all of it, and the iridescence in it is actually meteorite dust which is a natural ingredient that improves the skins glow and prevents premature aging. I have to say, I've been through many moisturizers and this is the best of them all personally for my skin. I've been using it for over a month and I noticed a HUGE difference in my skin, I found my skin smoother, healthier, and a natural oil free glow! (I think the amount of moisture it provides my skin, has helped control the amount of oil my skin would naturally produce to keep itself from being dry, hence my oily/combo skin.) I also noticed I stopped breaking out a lot too after using it but this is just a personal experience. Over all LOVE!
These items qualify for Free Shipping with minimum purchase! exclusions & details
Our Normal Gift Boxing is not available for these items.