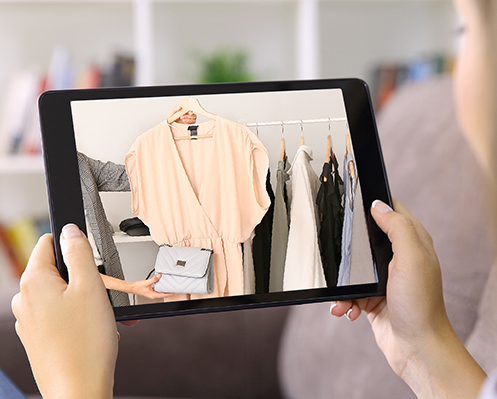 Personalized shopping
& style tips,
right this way
From a statement look for that big meeting to the perfect gift to new decor for your space, our team is here to help you find just what you're looking for. Talk with a stylist from the comfort of your home or safely in store.
Here's how it works

Make an
appointment
Tell us what you're shopping for &
if you'd prefer to connect
with a stylist virtually or in store.

Check your
inbox
Once you book, you'll get an
email confirmation &
a message from your stylist.

Meet
your stylist
This is where the fun starts:
Get ready for fresh inspo &
styles picked out just for you.
Trending now
A few of our most-loved styles of the season.
By the way, get
the finds from your
first appointment.
Exclusions & Details
All your questions,
answered
How do I make an appointment?
Book one
here
. You can also call us at 1-800-343-0121.
How long does an appointment last?
It depends. Locking down a formal look or wardrobe refresh can take up to three hours, but we can knock out gift shopping in one hour or less.
How much do I have to spend?
Nothing. Our stylist service is free. Plus, if it's your first time, you'll get 20% off your finds.
Offer Exclusions & Details
Can I make an appointment for just one item?
Absolutely.
Where is the service available?
You can chat with a stylist online or safely in person at a store near you.
Just choose which option you prefer when you book your appointment.
When do you offer appointments?
You can schedule your virtual or in-store appointment within normal store hours &
sync up with our stylists' availability.
How far in advance do I need to make my appointment?
We can handle your last-minute fashion emergency, but at least two days' notice is best.
Can I speak with a stylist before my appointment?
Of course. Once you're matched up with a stylist, feel free to reach out.
Don't forget to share your
Macy's List
and create a style profile when you book!
What can I expect at a virtual appointment?
Your stylist will share their top picks for you, customized to your request.
Plus, get a peek at new arrivals and best-selling products that are right up your alley.
What can I expect at an in-store appointment?
Safely meet with your stylist at a local Macy's of your choosing and
they'll have recommendations all ready for you to look at.
Is the Personal Stylist service just for women, or do you help men as well?
We believe great style is for everyone, so we're here to help everyone.
How do I know if Macy's Personal Stylist will get me and my style?
We're pros. Think of us as your fashion guides—you tell us what you like, and we'll use our expertise to find the best picks for you.
Can you help me find a gift?
Absolutely. We can even wrap and ship it for you. Ta-da!
Don't see your question below?
Call us at 1-800-343-0121 or send us a message at personalstylist@macys.com