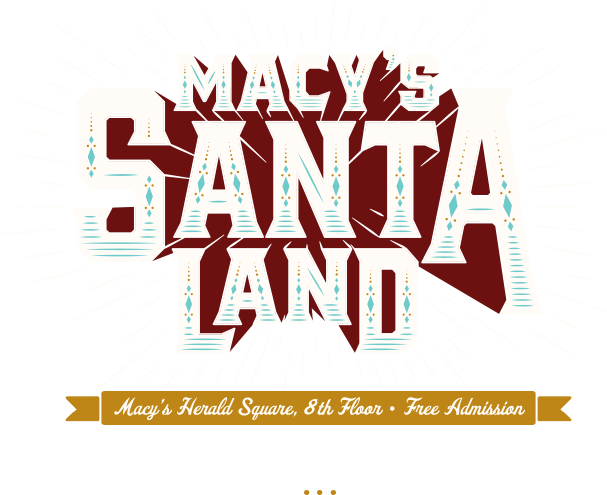 Nov. 24 - Dec. 24
Santa is out tending to his reindeer
and should be back in 10 minutes.
Sorry for the inconvenience.
GET ON SANTA'S CALENDAR
He's a busy man this time of year, so reserve your spot in line to see him! Pick a time slot to join Santa's queue from 30 minutes to 5 days in advance. Santa's elves will keep the line moving quickly, but wait times* can vary.
*Wait times can exceed one hour or more on our busiest weekend days.
Santaland FAQs

Do I need a reservation to visit Macy's Santaland?
Yes. New this year, Santaland is by reservation only. This means that you'll be able to join the line during a preselected time slot—choose one from 30 minutes to 5 days in advance. Ready to go? Make your free booking right here, at macys.com/santaland! Time slots are subject to availability.
Why are reservations now required?
Santa's a popular guy, so the wait times to meet him have been quite long in previous years, especially on our busiest days. The new reservation system is designed to minimize this by scheduling visitors to join the line at a time of your choice, allowing for the best possible holiday experience.
Where is Macy's Santaland located?
We're on the 8th Floor of Macy's Herald Square, which is at 151 W. 34th Street, New York, NY, 10001.
How much does it cost to visit?
Admission is free! Professional photos are available for purchase, but they're optional. Packages start at $20.99.
What happened to the Express Pass?
The new reservation system is the Express Pass 2.0! You liked the online reservations and the shorter wait times of the Express Pass—this system improves upon both features. Plus, while the Express Pass skipped a portion of the Santaland attraction, all guests will now get to explore the full experience!
Is there a way to minimize my time on line?
After crunching some numbers, the elves guesstimate that lines should be shortest during the week, from Monday through Thursday. However, they point out that this is based on overall trends and circumstances can vary.
When should I arrive for my reservation?
Santa's day is packed! To help keep him on schedule, please arrive within your time slot. For example, if you booked for 12:30pm – 1:00pm, check in with an elf no sooner than 12:30pm and no later than 1pm. If you miss your reservation, Santa might be able to see you at another time, but you'll need to rebook based on availability.
Uh oh. Something came up—can I change my reservation?
While existing reservations can't be modified online, you won't have to give up your chance to meet Santa! Simply cancel the booking and create a new one.
Can I bring my dog?
Unfortunately, only service animals are permitted inside Santaland. Please provide all appropriate documentation prior to entering in this case.
I'm having problems with the reservation system—help!
For tech-related assistance, call 212-494-1917.
Can you accommodate people with special needs?
Absolutely—we make every effort to ensure that Santaland is accessible to all. If you require special arrangements under the American Disabilities Act, please call 212-494-4495.
Whom should I contact for lost & found or any photo issues?
Please call the Santaland office at 212-494-7027.
The reservation system only books up to 15 people. Are larger groups permitted?
Santa says the more the merrier! To book for 16+ people, including school groups, email santalandgroup@macys.com.

about Macy's Santaland, please call 212-494-4495.
VIEW MORE

Write a letter to Santa! For each one we receive, Macy's will donate $1 toMake-A-Wish®, up to $1 million, to grant the wishes of children with critical illnesses.
Write a letter to Santa! For each one we receive, Macy's will donate $1 toMake-A-Wish®, up to $1 million, to grant the wishes of children with critical illnesses.
find out more

The Macy's elves are working hard to produce magical
events this season. Come see what's in store!
Find an event