IT'S ALMOST TIME TO VISIT SANTA!
We've reimagined Santaland and created a fun and festive online holiday experience for everyone to enjoy. Get ready to set off on a personalized, interactive journey through the North Pole to visit the one and only Santa and take a selfie with the Big Guy.
Your magical adventure begins here on 11/27!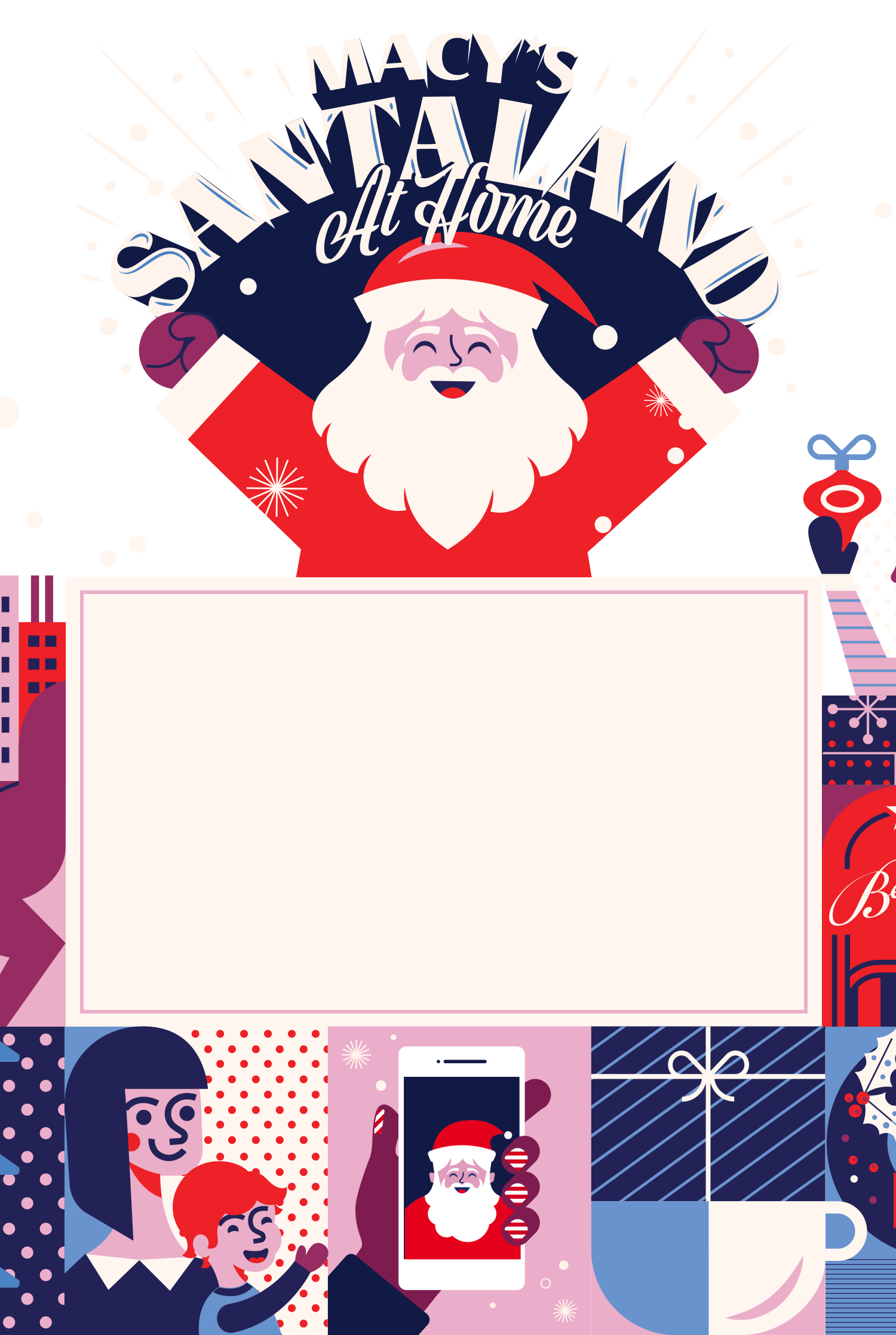 IT'S ALMOST TIME TO VISIT SANTA!
We've reimagined Santaland & created a fun, festive online holiday experience. Get ready to set off on a personalized, interactive journey to visit & take a selfie with the one & only Santa.
Your magical adventure begins here
on 11/27!
SANTALAND AT HOME
All Aboard! Ride the Santaland Express with Santa's Elves on an entertaining journey through the North Pole to meet Santa. There will be fun activities to enjoy as you travel through the charming town. You'll even get to visit Santa's Toy Shop and help the Elves pack his sleigh!
HISTORY OF SANTA
AND MACY'S
From the early 1860s until today, Santa has called Macy's his home base during the holiday season. More than 200,000 guests have visited Santaland inside Macy's Herald Square each year since 1977. Take a look through the years to learn more about this wonderful Macy's tradition that started out in our flagship store in New York City.

HOLIDAY HAPPINESS PROVIDED BY

BACK
HOLIDAY HAPPINESS PROVIDED BY
About Balsam Hill™
Balsam Hill is the leading retailer of highly realistic artificial Christmas trees and timeless holiday décor, inspiring extraordinary moments since 2006. The founder and CEO, Mac Harman, is hands-on with developing the Balsam Hill Christmas trees and making sure they look as true to nature as possible. In person, customers have been spotted touching and even smelling the tree branches trying to guess if they are real or artificial! Discover Balsam Hill Christmas trees and holiday décor online in the United States, Germany, the UK, France and Australia.
About The Elf on the Shelf®
CCA and B, LLC d/b/a The Lumistella Company, headquartered in Atlanta, Georgia, is the official source for the stories of Santa's North Pole. Originally founded in 2005 by a mother and daughter team, the company is home to a number of iconic Christmas brands, including: The Elf on the Shelf®, Elf Pets® and Elf Mates™. Each of these brands, along with their global portfolio of intellectual property, is managed by The Lumistella Company and distributed through a broad assortment of consumer products, engaging immersive experiences and original entertainment-based content designed to create joyful family moments at Christmastime.
About Entenmann's®
Entenmann's history dates back more than 120 years to 1898 when William Entenmann opened his first bakery in Brooklyn, New York. By the 1960s, the company was selling delicious donuts throughout the New York metropolitan area; by the 1970s, it began selling nationwide. Today, Entenmann's markets over 100 different baked goods in the U.S., producing more than one billion donuts annually—one of which is the No. 1 best-selling classic Entenmann's Rich Frosted Donut introduced in 1973.
About Hallmark Channel
Hallmark Channel is proud to be a sponsor of the Macy's Thanksgiving Day Parade® for the sixth consecutive year. Hallmark Channel is Crown Media Family Networks' flagship 24-hour cable television destination. As the country's leading source of quality, family entertainment, the network delivers on the 100-plus-year legacy of the Hallmark brand. The network's annual holiday programming sensation, Countdown to Christmas, featuring a robust lineup of all-new original movies, yuletide specials and holiday-themed episodes of daily lifestyle series Home & Family, is a 24/7 viewing experience the whole family can enjoy. To view the network website, visit www.hallmarkchannel.com. Find Hallmark Channel on social media: Facebook, Twitter, Instagram, Pinterest and YouTube.
About Kinder™
At the heart of the Kinder brand is the commitment to sparking, sharing and celebrating the simple joys of childhood. After all, it's the simple joys children experience that make childhood magical. That's why, for almost 50 years, we have been delighting families all over the world through innovative products and experiences specially created to help parents and children share simple moments of joy together.
BACK