DIOR
Capture Dreamskin - 1-Minute Mask - Youth-Perfecting Mask - New Skin Effect ,2.7-oz.
Web ID: 9885386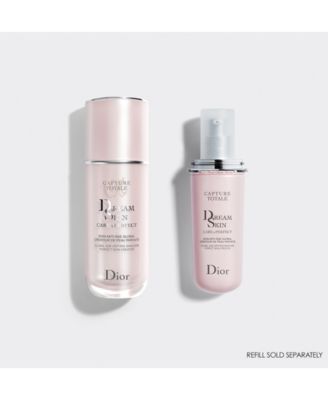 Part of a Collection
This item is part of the Dior Dreamskin Care & Perfect Collection
product details
Dior has perfected DreamSkin 1-Minute Mask with a more moisturizing, skin-perfecting, AHA peel formula. It's so powerful that your skin appears revitalized in just 60 seconds, leaving the skin feeling soft and comfortable. Dior has selected the best exfoliating agents (glycolic, citric and floral acids) in their optimal concentrations to transform the skin in just 1 minute. The transformation is spectacular. The complexion is brightened and naturally radiant while imperfections are erased with a soft-focus veil. A new-skin effect in record time.
SKIN TYPES:
For all skin types
WHAT IT DOES:
Upon contact with the skin, the fresh and rosy "gel" texture turns into a luscious white cream, offering a visible skin transformation
Gently exfoliates the skin and diminishes all imperfections, including dark spots, wrinkles, dullness and redness
Pores appear tightened, the skin seems smoother and the complexion is instantly brighter; freed from signs of fatigue, the skin radiates, glowing with new perfection
Dreamskin 1-Minute Mask "resets" the skin to reveal its natural radiance in just 60 seconds; with every application, the skin is more beautiful; clearer and more luminous, skin tone is durably even
KEY INGREDIENTS:
Opilia has skin-perfecting properties
Boosted longoza is renowned for its exceptional age-defying effectiveness
Softening jojoba oil gives this formula a more intense feeling of comfort
HOW TO USE:
Apply 2-3 times a week before your usual skincare ritual
Massage the mask onto the entire face until it turns into a fine white cream
Leave on for 1 minute, then rinse off with water
RESULTS:
79% - smoother skin*
82% - velvety skin*
68% - refined skin texture*
74% - more luminous skin*
*Based on questionnaire self-assessment by 34 women after 28 days