Inspired by Pompeiian ceramic tiles and the vivid Mediterranean vicinity, Michael Wainwright injects stunning colors into the abstract stoneware designs of the Crafted by Wainwright Pompeii Blu Dinnerware Collection.
Select specific item for details
Created for Macy's
Web ID: 6069254
main image of Lenox-Wainwright Pompeii Blu Sky Rectangular Platter, Created for Macy's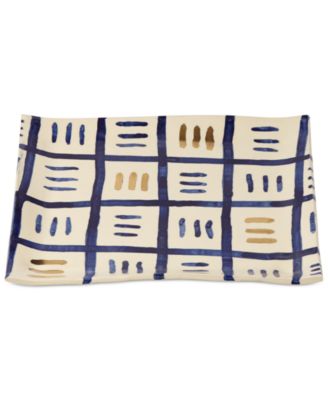 ---
Current selected color: Blue
main image of Lenox-Wainwright Pompeii Blu Land Small Serving Bowl, Created for Macy's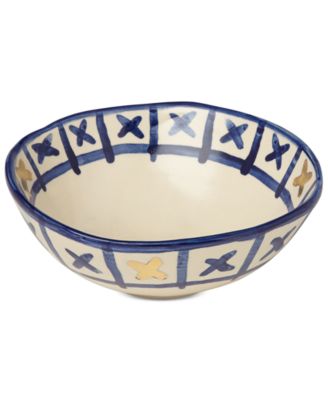 ---
Current selected color: Blue
main image of Lenox-Wainwright Pompeii Blu Sky Medium Serving Bowl, Created for Macy's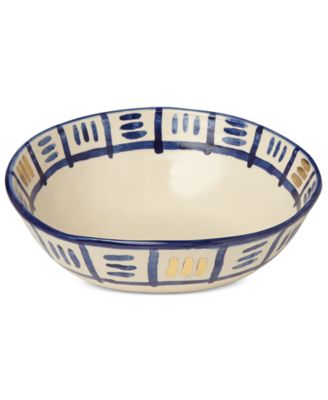 ---
Current selected color: Blue
Not microwave or dishwasher safe at all!

Jun 15, 2020

I used to love this set when I first bought it, however, it says it is microwave and dishwasher safer which is totally not true as the patterns have started to fade away and the color, specially the gold is almost gone! It has been less than a year since I bought this and no matter what setting I use in the dishwasher or what plate size I use, the colors keep disappearing. Very disappointing as it has a pretty penny when purchased! To be honest it Looks terrible when setting up the table. It even looks older than grandmother's 40 year old china which was given to me as a wedding gift.

These are the dinnerware we added to our wedding registry. We absolutely loved them when we saw them in the store; they were actually our favorite item. We've had them for 3 months and the gold areas are now silver, and continuing to fade. I wish they really were dishwasher safe...

I also purchased another wainwright bowl with a different pattern. Love, love, love the two bowls side by side. Great size, cute "X" pattern.

Was looking for a serving bowl with interest. This is it! Love it. The print + mat finish & gold touches are modern and fun.

Wainwright Got it Right!!!

Feb 02, 2018

The Crafted by Wainwright Pompeii Blu Sky 4-Piece Place Setting, Created for Macy's is as tasteful as I would hope the food that is being served on it would be--making it a perfect combination!!! It's design is classic, yet cool. And, it looks rich, making it a wonderful service for gourmet cuisine, but it's also a wonderful way to serve good old comfort food as well!!!! Love the elegance of this 4 piece set which is not fussy--only fun!!!!

The picture doesn't do this justice. Gorgeous and vibrant blue. Love these! Beautiful and functional!

this is beautiful quality set. the colors are vibrant and a great addition to any collection. the pieces are of great quality as well and seem as if they will be durable.

This set can be either used for leisure or elegant. Very nice tones of color. Bold blue with touch of gold. Bowl and Mug are deep for larger portions. Strong and comes with a replacement warrant from the manufacturer. I plan on making it a bigger set for my house.
These items qualify for Free Shipping with minimum purchase! exclusions & details
Our Normal Gift Boxing is not available for these items.
Enjoy a longer window to return most of your holiday purchases. See our Extended Holiday Return Policy to see if this item qualifies.