Rhona Sutton
Two-Tone 2-Pc. Set Cubic Zirconia Floral Daughter & Heart Bead Charms in Sterling Silver
Web ID: 6470771
Current selected color: Silver/gold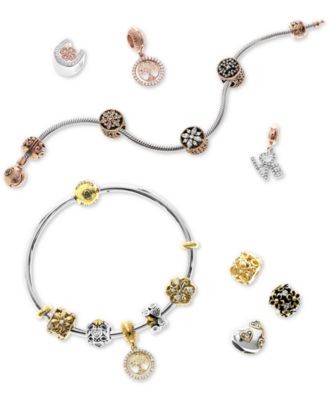 Part of a Collection
This item is part of the Rhona Sutton Bead Set Charm and Bracelet Gift Set Collection in Sterling Silver
product details
Let her spirit shine with this two piece set of cubic zirconia floral daughter and heart bead charms in two-tone styling from Rhona Sutton.
Available in sterling silver & gold-plated sterling silver or sterling silver & rose gold-plated sterling silver
Approx. drop: 3/8"
Item comes packaged in a gift box
Sign up for Macy's WorryNoMore® Jewelry & Watch Protection program within 30 days of your purchase. Call Customer Service at: 1-800-BUY-MACY (1-800-289-6229), use Macy's Chat function or visit any Macy's store with your dated online receipt.
Photo may have been enlarged and/or enhanced.