Trendy Décor 4U
Today Is 2-Piece Vignette by Marla Rae, Black Frame, 15" x 21"
Web ID: 10319234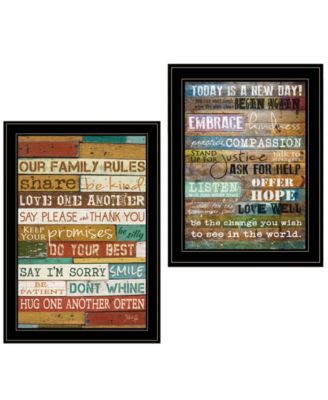 Part of a Collection
This item is part of the Trendy Decor 4u Today is 2-piece Vignette by Marla Rae Collection
product details
"Today Is" by artist Marla Rae. This decorative black framed vignette 2 1-15"x19" 1-15"x21" of Rules to live by. Reminding us to be kind, Love and Enjoy life. This print has a colorful plank wood background. .
Dimension - 15" L x 1" W x 21" H
Textured artwork with a 'rolled on' acid-free acrylic coating to create a canvas painting effect
UV protectant coating protects artwork from fading. No glass is necessary
Moulding adds natural beauty to the framed art. Frame is key holded for the easy hanging
This fine home decor piece made in the USA by Woman Owned Business (WBE) is a perfect gift for a friend or relative
Arrives ready to hang
Paper, Wood
Wipe Clean
Made in the USA of US and Imported Parts