Why Clinique's system? It uses two proven acne medications--salicylic acid and benzoyl peroxide. These formulas are fragrance free--eliminating one of skin's most common irritants--and allergy tested. You'll see a 37% improvement in 3 days on active blemishes--and that's just the beginning.
ACNE EMERGENCIES:
We're all too familiar with the pimple that comes at the worst possible time. Don't panic. After daily care, dab on Acne Solutions Emergency Gel-Lotion or Clinical Clearing Gel.
For touch-ups during the day, use Acne Solutions Clearing Concealer.
CLEAR SKIN MAKEUP TIPS:
Select a concealer that is one shade lighter than your skin.
Treat while you're covering up. Seek foundations that contain ingredients such as salicylic acid and help control oil like Clinique Acne Solutions Liquid Makeup.
If a breakout is distracting you, highlight your features with dramatic eyes, neutral-toned cheeks and a natural lip.
Web ID: 391901
main image of Acne Solutions™ Liquid Makeup Foundation, 1 oz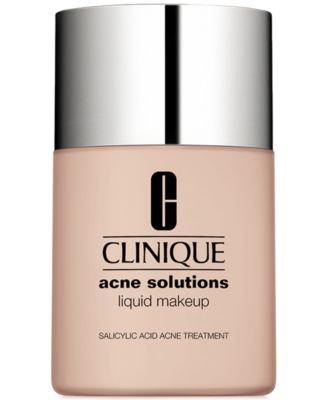 ---
Current selected color: Fresh Alabaster
main image of Acne Solutions Clinical Clearing Gel, 1.0 oz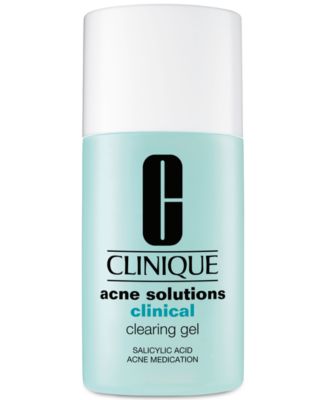 main image of Acne Solutions Oil-Control Cleansing Mask, 3.4 oz.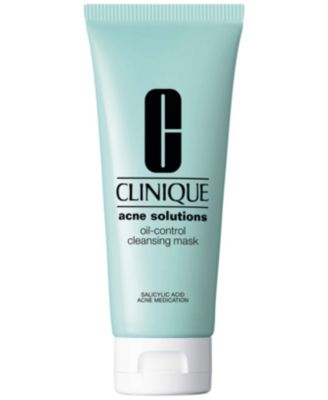 main image of Acne Solutions Clinical Clearing Gel, 0.5 oz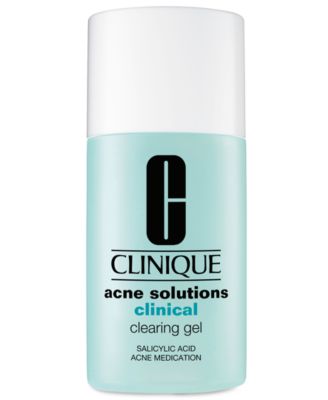 main image of Acne Solutions Clarifying Lotion, 6.7 fl oz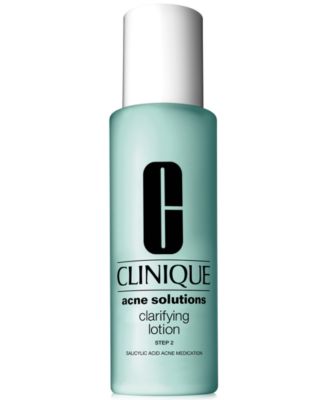 main image of Acne Solutions Cleansing Bar for Face and Body, 5.2 oz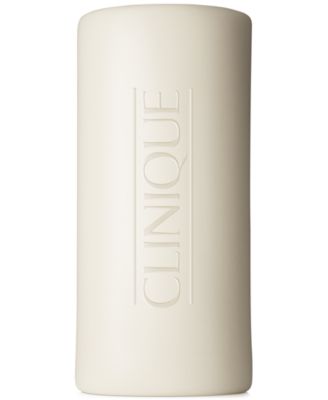 It helped clearing my sons acne.

Clinique acne Solutions make up is wonderful. But be aware the colors are not accurate on site. Go to Clinique . com for better accuracy. . My daughter is a little darker skin. Looked good on wrist of model . I ordered the Chamois. I returned it. They took it back gracefully and reordered with them a better color. I do recommend.

Nov 28 I purchased this spot foundation because it has salicylic acid. Wow this is out of this world. It removes red color from pimples and makes them dry. I started like using it under a stick foundation and powder. This amazing make up makes my face have the same color everywhere. I also have combination skin so that's why I only use it on oily part of my face with pimples. I really love this foundation. If you have acne I recommend you to try it.

Best ever acne product! Treats so fast and can even wear over make-up. Everyone should have this in their skincare routine.

Love this face cleanser! It works so well for any skin type!

This mask is so easy to use! My skin feels great when I wipe it off.

This product will clear up any blemish overnight!

Nov 05, 2021

If you have the tiniest blemish or even a blackhead and put this on after you've washed your face and used your clarifying lotion it will disappear it the next day! I must have!
These items qualify for Free Shipping with minimum purchase! exclusions & details
Our Normal Gift Boxing is not available for these items.
Enjoy a longer window to return most of your holiday purchases. See our Extended Holiday Return Policy to see if this item qualifies.