Jollene 113" 2-Pc. Sectional, Created for Macy's
Web ID: 4381200
LOWEST PRICE OF THE SUMMER SEASON!
$2,578.00
Current selected color: Midnight Blue
Left Arm Facing
Right Arm Facing
Get more information
Want to see it in store? First select a type
For questions or financing options, talk to a Macy's Furniture and Mattress Expert.
Call 1800-BUY-MACY (289-6229)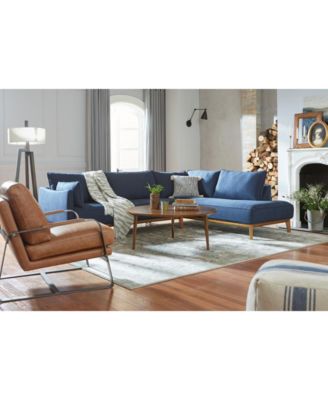 Part of a Collection
This item is part of the Jollene Fabric Sectional and Sofa Collection, Created for Macy's
product details
This appealing two-piece sectional combines rich, textural upholstery with mid-century modern lines to offer in demand style and luxurious comfort.
Right arm facing means that when you are facing the sofa (not when sitting on it), the chaise is on your right; Left arm facing means that the chaise is on your left.
Created for Macy's
Product comes fully assembled via White Glove Delivery